The size guide indicates what body measurements will fit the garments as they are planned to be worn.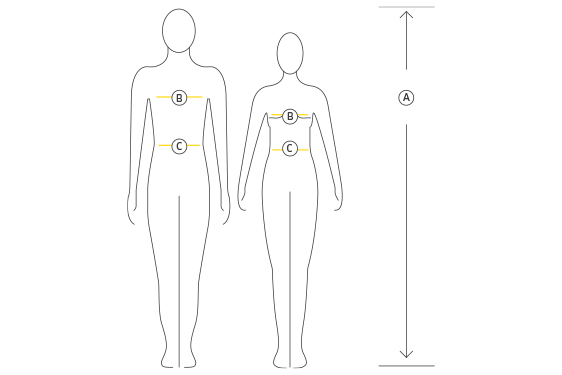 HOW TO MEASURE
Individually one may choose smaller size for a tighter fit or a bigger size to have a loose garment. Devold underwear and accessories are generally in elastic materials, mid layers in more stable qualities. The garment measures will differ according to the elasticity in each quality and intended fitting – the size guide refers to body measurement for correct fit.
A  BODY LENGHT
Measure from top to head to floor. This should be done with feet together and without shoes.
B  CHEST
Measure around and fullest part of the chest.
C  WAIST
The natural waist is found by measuring the slimmest part of the waist.
HERE ARE A FEW PRECAUTIONS
When bust/chest measures indicate different size than height, follow the bust measurement
When hip and waist indicate different sizes, follow the hip measurement
When height indicate two sizes more than width measure, we recommend to chose the size in between.
 MAN
XS
S
M
L
XL
XXL
3XL
4XL
5XL

  EUR

C46-C48

C46-C48

C48-C50

C52-C54

C56-C58

C58-C60

 A  
 Body
 lenght

163-171
cm

168-176
cm

173-181
cm

178-186
cm

183-189
cm

186-192
cm

186-192
cm

186-192
cm

186-192
cm

 B  
 Chest

85-91
cm

91-97
cm

97-103
cm

103-110
cm

110-118
cm

118-126
cm

124-130
cm

130-134
cm

134-138
cm

 C  
 Waist

74-80
cm

80-86
cm

86-92
cm

92-99
cm

99-107
cm

107-113
cm

113-117
cm

117-121
cm

121-125
cm
 WOMAN
XS
S
M
L
XL
XXL

  EUR

C34-C36

C34-C38

C38-C40

C42-C44

C44-C46

C48-C50

 A  
 Body
 length

157-164
cm

161-168
cm

165-172
cm

169-176
cm

173-178
cm

175-180
cm

 B  
 Chest

79-85
cm

85-91
cm

91-97
cm

97-104
cm

104-112
cm

112-122
cm

 C  
 Waist

63-69
cm

69-75
cm

75-81
cm

81-88
cm

88-96
cm

96-104
cm
 WOMAN
BRA
XS
S
M
L
XL
XXL
 Measure
 underbust

65-70
cm

70-75
cm

75-80
cm

80-85
cm

85-90
cm

90-95
cm
 HEADWEAR
O/S
 Head width

56-60
cm